Activity Details
Kansai Area Pass 1 day, 2 days, 3 days, and 4 days
Area covered: Osaka, Kyoto, Kobe, Nara, Himeji, Wakayama, Shiga, Tsuruga, Iga-Ueno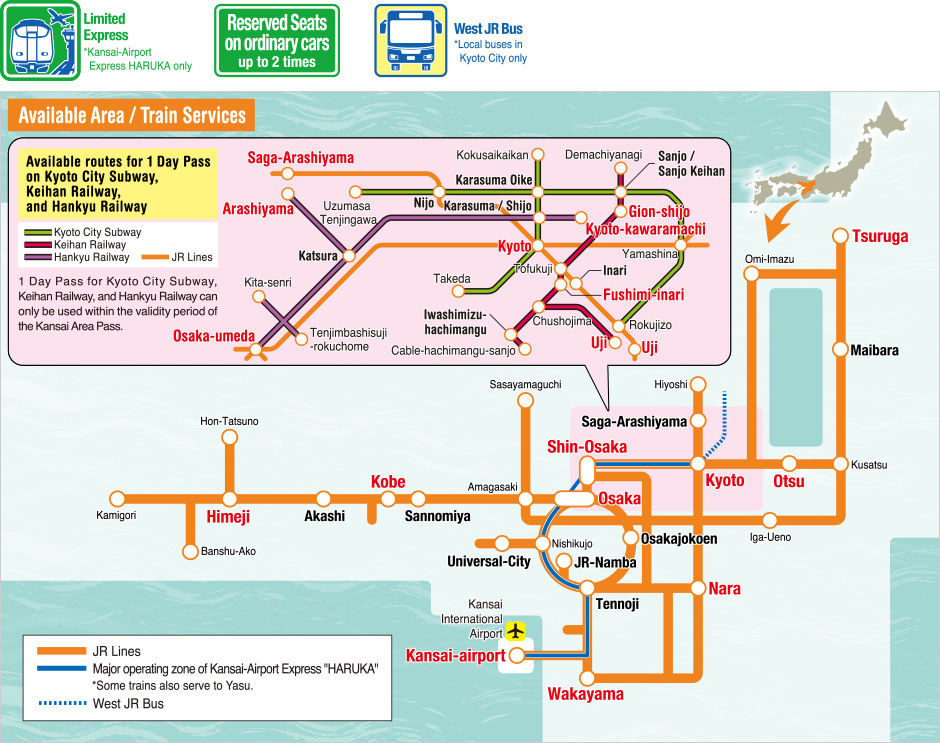 Inclusions
Non-reserved seats on Kansai-airport Express HARUKA
JR Special Rapid Services, Rapid Services, and Local trains on JR-WEST Conventional lines
Exclusions
Reserved seats on Kansai-airport Express HARUKA
Both Reserved and Non-reserved seats on Express Trains excluding Kansai-airport Express HARUKA
Bullet Trains "SHINKANSEN"
Change & Refund Policies
Once this product is successfully booked, it cannot be changed or canceled
How to Use It
The use time is in local time.
【How to redeem ticket】:Print out the electronic ticket on A4 paper or present the ticket on the phone at the following two redemption points.
【Location and opening hours of ticket exchange】:
1. KIX Airpot JR Station: Opening hours: 08:00 - 20:00
2. Osaka JR Station (Nippon Travel Agency TiS Osaka Branch ): Opening hours: 08:00 - 20:00
Ticket collection time, ticket exchange location: https://www.westjr.co.jp/global/en/ticket/pass/shop/pdf/JRW_EN.PDF
【How to activate the JR PASS】
1. The user himself/herself holds a passport and a redemption voucher to the exchange office of JR designated station.
2. The redemption voucher is valid for 90 days after the order is confirmed.
【How to use JR PASS to take JR】
1. Present JR Pass at the artificial window of JR Station, and you can enter and exit any station within the applicable range.
2. The rail pass is valid only user humself/herself.
Activity Essentials
Traveller Information
Adult: Age 12+
Child: Age 6 - 11
Child: Age 1 - 5
Babies aged under 1 year old can be accompanied for free. An Adult's or Child's rail pass holder can accompany up to 2 infants (1-5 years old) for free. The infants from the third one will require Child's rail passes for each. * Child's rail passes will be required for each infant in the following situations: 1. When accompanied infants use Reserved seats by themselves 2. When infants travel by themselves
Important Information
1. A rail pass is only valid for its rail pass holder only.
2. A passport must be carried when a rail pass is used and presented when a JR staff asks to.
3. A rail pass will be void if the magnetic ticket is detached from a rail pass book.
4. A rail pass will not be reissued even if lost or stolen.
5. Conditions of use for a rail pass are stipulated by JR-WEST's carriage conditions and laws of Japan.
6. Conditions of use for an exchange order are stipulated by regulations and contracts of issuing companies.
7. If any discrepancies arise between the foreign language and Japanese versions of the carriage conditions, the Japanese version has precedence.
8. The information displayed (including prices) is current as of May 21, 2019, and is subject to change.
9. A rail pass is purchasable up to 1month in advance of the first day of use.
10. A rail pass is valid for consecutive days.
11. The validity of a rail pass starts from 12 a.m.